Seasonal hair loss: why it happens and how to fight it
In the shower, on your office desk, on the floor, etc. Just like that, you're starting to find more hair than what you normally shed all over the place. There's no need to panic. It's just seasonal hair loss, which means that spring is just around the corner and you're not actually going bald. The fact is, in spring, the hair renewal process speeds up and this is when the scalp secretes substances such as melatonin or prolactin to protect itself from the sun. The good news: fighting this cosmetic issue is easier than you think. We'll tell you how!
To start with, it's important to bear in mind that we shed hair every single day of the year. On some days more, on some days less. It's a common biological factor that affects both men and women, regardless of age. But these strands of hair are not lost forever as they regenerate.
The normal hair growth cycle includes three phases: growth or anagen phase, stagnant or catagen phase and shedding or telogen phase, which typically lasts three months. These are the three phases that repeat over and over again throughout our lives. It's only when you shed more than 300 strands of hair a day when hair loss becomes a cause for concern.
Seasonal hair loss is just our scalp's way of getting ready for new environmental factors. In spring, we get much more exposure to the sun, which – in biological terms – leads to an acceleration in hair renewal in order to protect our scalp from the sun. The physical consequences? Greater hair loss – which is absolutely normal – over the next 4–6 weeks.
Three false myths about seasonal hair loss
During shedding season, washing hair will make even more fall out. Absolutely not! Washing hair won't make more hair fall out. In fact, if you wash your hair less often, when you actually get around to it, you'll feel as if even more hair is falling out.
If you wash your hair every day, you'll make it fall out even more. False. Washing hair every day does not increase the risk of hair loss. However, it is important to choose the most suitable shampoo for each hair type, combining specific shampoos (such as shampoo for oily hair or anti-dandruff shampoo) with a shampoo for daily use.
Hairspray, hair gel and hair dye encourage hair loss. Absolutely not true. Applying hair colouring, treatment or styling products does not affect hair loss in any way. However, to get a grip on hair loss, it's advisable to choose suitable products to add volume or density.
The solution: professional anti-hair loss treatments
To put an end to seasonal hair loss, the best thing to do is to use professional anti-hair loss treatments, which will give your scalp the vitamins, proteins and trace elements necessary to anchor and strengthen your hair, keeping it strong and healthy.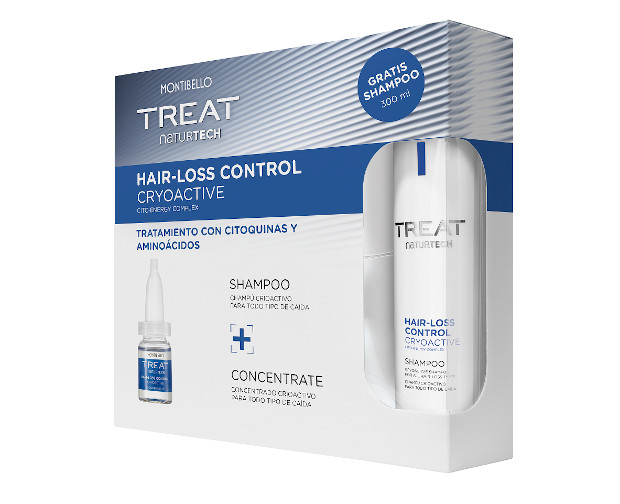 TREAT NATURTECH Hair-Loss Control Cryoactive is Montibello's anti-hair loss range which is designed to fight seasonal hair loss. Its formulation is rich in carbohydrates, proteins, vitamins, trace elements and activating, regulatory and protective metabolites that activate and invigorate the hair follicle, effectively slowing down hair loss.
The range includes:
TREAT NATURTECH Hair-Loss Control Cryoactive Shampoo, an anti-hair loss shampoo that gently cleanses hair, while revitalising and strengthening it from roots to ends. Its refreshing action stimulates the scalp. Get soft and shiny hair and a healthy, soothed scalp.
TREAT NATURTECH Hair-Loss Control Cryoactive Treatment Concentrate is an intensive scalp treatment that is specially formulated to repair, invigorate and stimulate hair follicles. It improves the anchoring of hair to the scalp and regulates sebum secretion. With its stimulating and refreshing action, it revitalises the scalp, promoting nutrient absorption.  It stops hair loss while moisturising and balancing the scalp.
Benefits:
Reduces hair loss by improving the anchoring of hair to the scalp.
Cooling action to stimulate the scalp and boost the supply of nutrients.
It regulates sebum secretion, hydrates and restructures the hair shaft.
What's more, eat a healthy diet
Diet also plays an important role in keeping seasonal hair loss at bay. Foods such as leafy green vegetables, particularly spinach, dried nuts such as hazelnuts, salmon, sunflower oil and foods rich in vitamin C, such as kiwi, strawberries or orange should be part of your daily diet if you want to fight hair loss.
Professional treatments, together with a good diet, are the most effective solution against seasonal hair loss.
Montibello's commitment
At Montibello, we are aware of our environment and the those who are a part of it. This is why we remain true to our commitment:
Caring for hair.
Caring for people.
Caring for the planet.
Subscribe to our Newsletter