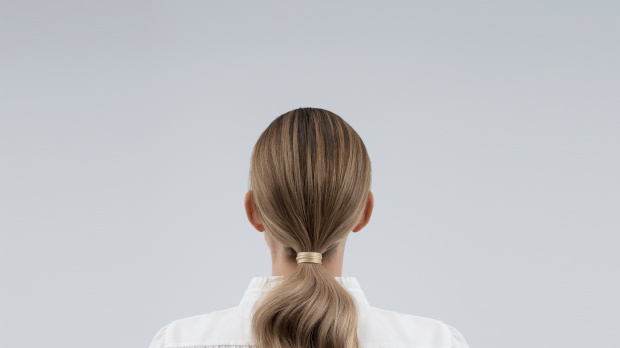 Everything you need to know about hair lightening
Hair lightening is one of the most in-demand services at hair salons. This is because luminous shades such as medium blonde, light brown or copper flatter all face types, rejuvenating and softening the features.
Over the past few years, services to illuminate hair have grown more sophisticated, giving way to colour gradient techniques, which opt for a gradual lightening of the original hair colour to get natural-looking results. This is why the emergence of techniques such as Balayage, Babylights, Melting or Ombre has led to a surge in demand for hair lightening services at hair salons.
What does hair lightening consist in?
Hair lightening is a chemical process that consists in the extraction of the hair's natural pigment to lighten its natural colour and get it ready for subsequent colouring a few shades lighter than the original. To do this, oxidising products are used to open the hair cuticle – the outermost layer of the hair shaft – and penetrate into it to remove melanin, which is responsible for hair colour.
"Hair lightening is a gradual process: it's possible to subtly or dramatically lighten hair. The result will depend on the product chosen and how much time it's used on hair", explains Mia Casal, Hair Expert at Montibello.
The new vegan Dénuée hair dyes
Dénuée, Montibello's water-based, ammonia-free hair dye is now taking hair lightening down a more natural route.
The new vegan, ammonia-free Dénuée hair colour range with activated charcoal ensures natural-looking results while being kind to hair. It achieves up to seven levels of lift while providing hair with greater protection, causing less wear and tear to hair.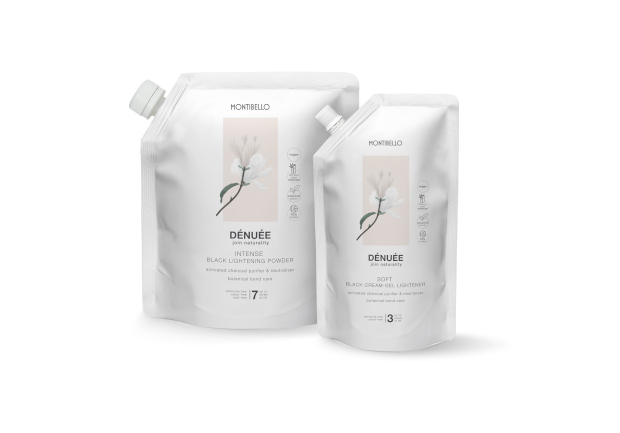 Benefits:
At last, a 100% vegan hair lightener that protects hair with ingredients of natural origin.
Its innovative textures make it possible to use all techniques and adapt to any hair type
The most natural-looking results: even, neutral shades with no lines of demarcation.
Four must-dos for lightened hair
Washing
Experts advise against washing hair every day as this would strip the scalp of its natural protective acid mantle, which keeps it protected against external aggressions.
For gentle cleansing that's kind to the hair and scalp, we suggest the shampoo for frequent use Essential Shampoo, from our Decode Zero vegan treatment range. It cleanses, purifies and protects hair from pollution and external aggressions. Its formula contains 86% ingredients of natural origin.
Treatment
One of the consequences of hair lightening is dehydration. Therefore, if you've lightened your hair, you should include products that hydrate and nourish hair in your haircare routine.
Aside from using a shampoo and conditioner, you should round off your routine by applying specific hair masks once a week (15 minutes) and intensive leave-in treatments that can be used daily after showering with no rinsing required. The latter contain a high concentration of active ingredients that – aside from restoring hydration – will bring back its radiance and shine.
Montibello's must-haves for treating lightened hair?
Essential Balm: a light conditioning balm that hydrates hair, protects it against pollution and smooths it. Its formula contains 93% ingredients of natural origin.
Cure: an intensive treatment that restores, revives and strengthens a weakened hair structure. Its three natural infused oils increase the hair's moisture levels fivefold.
Drying
Lightened hair tends to be porous and prone to frizz. When blow-drying hair, it's important to take some precautions to avoid any damage to it:
Before blow-drying, always apply a product that provides heat protection, as well as extra hydration and protection such as Life by Decode Zero, a styling treatment that repairs and revitalises the hair shaft, making hair extra manageable and giving it a clean hold.
What's more, go for products that seal the hair cuticle and add shape and definition, such as Pure by Decode Zero, a water-based gel that holds and defines, designed to enhance the hair's natural shape. And, above all, always blow-dry hair gently on low heat, while shaping hair with the fingers or with natural brushes.
Brushing
To keep hair from breaking, carefully detangle it while it's still damp. Choose brushes with large bristles. "Apply a few drops of Cure by Decode Zero from mid-lengths and ends to protect it and brush gently. You can brush hair at night so it doesn't get tangled up while you're sleeping for an intensive night treatment", advises Mia Casal.
FAQS ABOUT LIGHTENED HAIR
– How often should I pay a visit to the hair salon to get a lightener touch-up?
If you got your hair lightened all over: every three to four weeks.
If you had babylights done: every two months.
If you had a balayage done: every three to six months.
The frequency will depend on the hair lightening technique used and how great the contrast is with your natural hair colour.
That is, the more levels of lift you had, the more often you'll have to go to the hair salon. In contrast, if you had subtler lightening done, visits to the salon could be more spread out.
– Will my hair get damaged?
It's very important to be aware that changing your hair colour always dehydrates your hair. To avoid this, you should create a specific haircare routine to offset the chemical effects of lightening your hair following the recommendations above, particularly with regard to the intensive Decode Zero treatments.
– My hair has yellow and/or orange undertones. How can I correct this?
There are shampoos that cancel out unwanted undertones. (your stylist's trick, which you can take home with you!).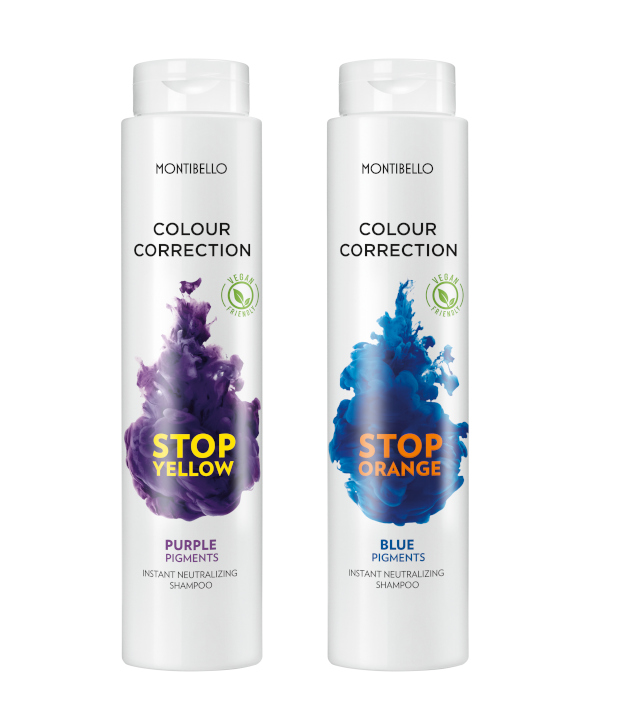 To combat yellow undertones: STOP YELLOW, from the Colour Correction range, is the best option. It's the first shampoo with violet pigments featuring the latest vegan technology which combats unwanted yellow reflects and undertones.
To combat orange undertones: STOP ORANGE, also from the Colour Correction range, instantly combats these undertones. Its formulation contains blue pigments that neutralise unwanted orange reflects using the latest vegan technology.
How do you apply it? Apply STOP YELLOW or STOP ORANGE to damp hair until hair is completely coated and massage in. To neutralise unwanted undertones that are subtle, leave on for one to three minutes, or three to five minutes for unwanted undertones that are intense. Once the processing time has elapsed, rinse thoroughly. And voilà, neutralised hair with perfectly sharp colour!
Subscribe to our Newsletter