How to choose the perfect balayage
It's one of the most in-demand techniques at hairdressing salons because it brightens both the hair and the face. We're talking about balayage, the timeless trend that's here to stay. Mia Casal, from the Marketing Global team Montibello Hair will tell you all about it!
What is balayage and when was it popularised?
Balayage dates back to the 1970s when it was created by hairdresser Jacques Dessange. Its name comes from the French verb balayer, which means "to sweep", referring to the technique of "sweeping" colour from roots to ends.
It's a freehand lightening technique that creates a colour gradient in hair, keeping the natural hair colour at the roots, achieving natural-looking results and depth, and subtly lightening mid-lengths and ends, thus endowing hair with fabulous radiance. All this is done while always maintaining colour harmony with the natural hair colour and perfectly blending the different hues.
It's highly sought-after as it just looks so effortlessly natural. What's more, it requires very little maintenance: it's enough to get a colour retouch at the salon every three to six months, depending on how much lighter your hair is and the level of contrast with your natural hair colour.
This technique has branched out even further, so, now there are several techniques such as ombre, which is differentiated by being subtler, for darker hair; melting, which involves perfectly blending into the natural hair colour; and foilayage, a form of balayage wherein hair is wrapped in foil during the lightening process to achieve more levels of lift and create greater contrast.
BALAYAGE: BEYOND BLONDE HUES
Although it started out as a gradient for blonde or light hair, over the past few years, it's been used for all kinds of base colours, such as both medium brown and brunette, with more toffee, hazelnut and even cinnamon hues. All this is done while always looking as natural as possible – one of the key principles behind this technique.
Anna Barroca, manager of the Barroca Perruquers salon in Andorra remarks, "People come in to our salon asking for more natural-looking results, specifically vanilla blonde or golden blonde. This is why, we sometimes use several techniques such as balayage, babylights, highlights and contouring to recreate some lovely shading in a single session. Double-process colour can also be used to add depth to hazelnut hues".
As Jose Suárez, manager of Florent Suárez Peluqueros in A Coruña explains, "For fair skin, balayage in cool tones is more flattering while we go for warmer tones for darker skin".
As for hair length, Suárez confirms that "in order to do balayage, hair has to be at least chin-length".
éclat, the acidic demi-permanent hair dye from Montibello, with proteins and vitamin C, is the perfect ally for colourists when performing these techniques. What benefits does it bring? It lets you do balayages that stand out for their richness of colour, sublime shine and strong hair. The outcome? Glossy locks with a healthy sheen.
Different types of balayage
Depending on the level of lift and contrast you're looking for, you can go for one type of balayage or another. The outcome will look different, although it offers the same benefits for hair, thanks to the application of éclat.
Choose the look that suits you best!
SAND BLONDE BALAYAGE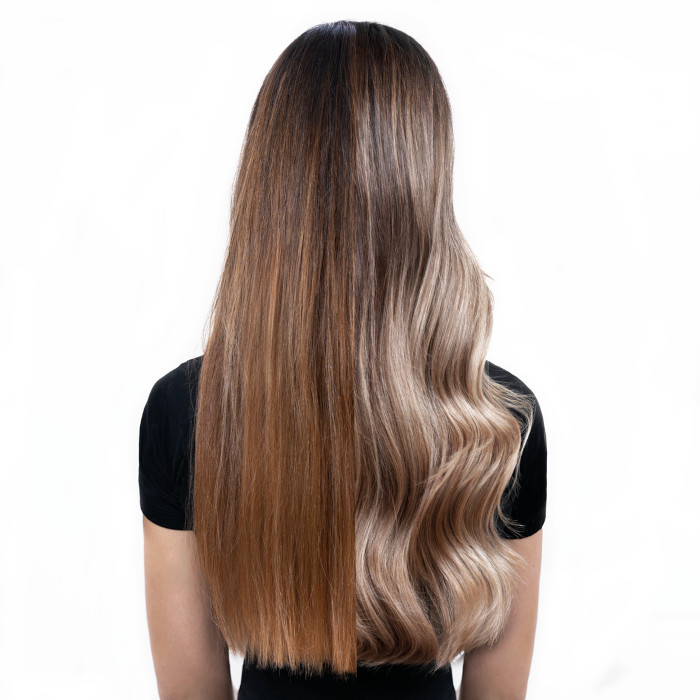 BEFORE
– Hair with unwanted orange undertones.
– Colour with no definition.
AFTER
– Sand blonde balayage.
– Hair with high colour definition and sublime shine.
Colour using: éclat 9-23
CARAMEL BLONDE BALAYAGE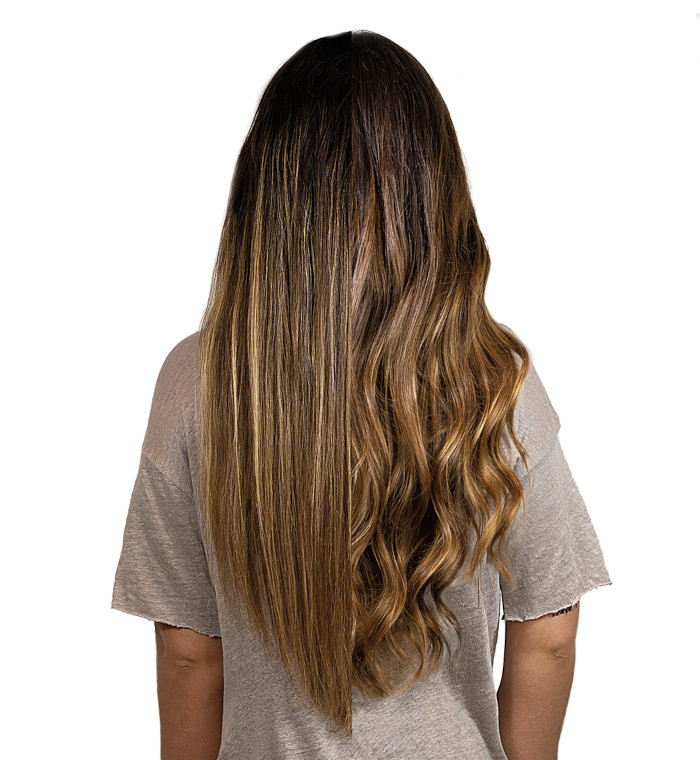 BEFORE
– Hair that's grown dull from previous balayages.
– Unwanted yellow undertones.
AFTER
– Caramel blonde balayage.
– Healthy hair with multidimensional shine.
Colour using: éclat 7-60
CINNAMON COPPER BLONDE BALAYAGE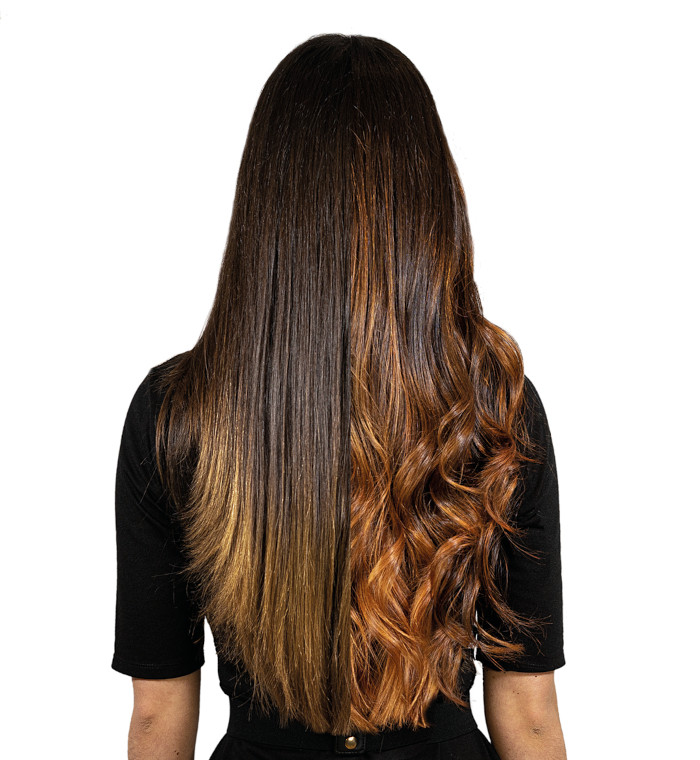 BEFORE
– Extremely overgrown roots with ends of a different colour.
– Dry and porous ends.
AFTER
– Cinnamon copper balayage.
– Hair enriched with a high colour intensity.
Colour using: éclat 8-4
VANILLA BLONDE BALAYAGE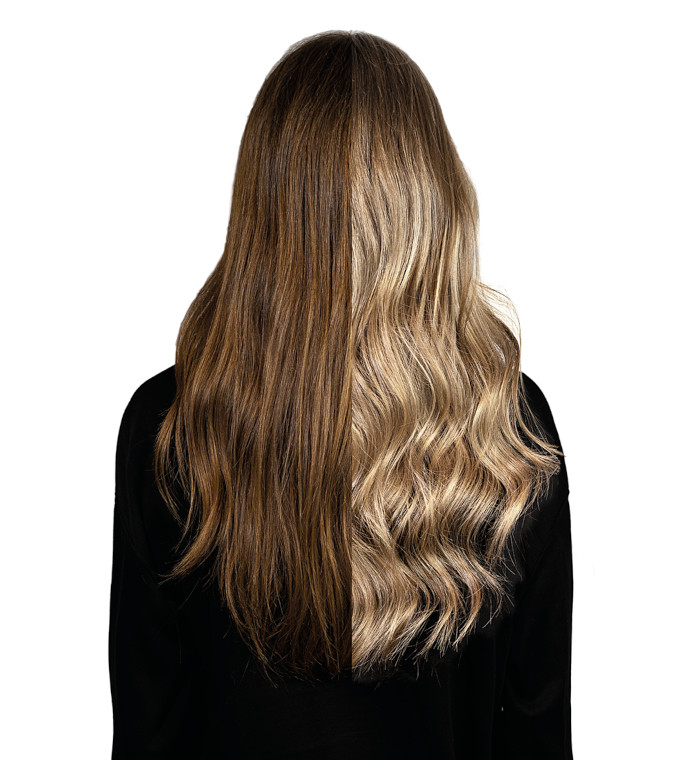 BEFORE
– Natural hair.
– Dull, lifeless shade.
AFTER
– Vanilla blonde balayage.
– Revitalised and hydrated hair with no unwanted undertones.
Colour using: éclat 9-21
Ask your stylist for the technique that's on trend and become an éclat fan!
Subscribe to our Newsletter